Windows 11 22h2 Professional Game Edition in English
---
---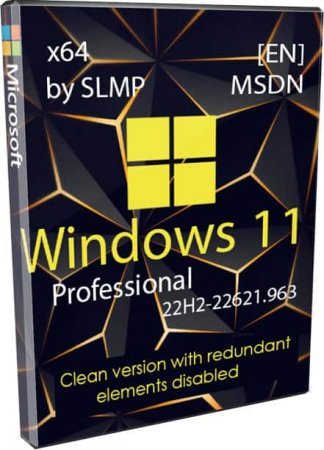 Available for Download ISO Windows 11 22h2 Professional Game Edition in English torrent 3.48Gb is free.
Windows 11 Pro by SLMP is highly-optimized and secure system. Windows Update Service, Defender, SmartScreen, telemetry and other unwanted services and tasks are completely disabled – for the best perfomance, confidentiality and comfort . All advertising applications (e.g. Windows Store and related unwanted Metro soft) are abcent. This .iso image has been automatically created with author's open-source DISM-script. Before the installation Windows 11 by SLMP you may addionally download SamDrivers (with all up-to-date drivers for different devices). You should install this system without Internet Connection, otherwise nothing will work properly. This optimized Windows 11 is great for all typical user tasks, especially for gaming. All the annoying services and notifactions are disabled. Your SSD Drive will last you much longer because indexing, SysMain, logging and other unwanted services are disabled too. It is a reliable and stable system without unnecessary junk. If you are concerned about your further security you can install a third-party antivirus. This fast and high-quality system will provide you with maximum comfort! We welcome your gratefull and objective feedback.

Update date:
January 4, 2023
Version:
Windows 11 Professional (build 22621.963) 22H2
Architecture:
64 bit
Interface Language:
ENG (English US)
Activation:
manual (try
Win11-activator
or see the instructions below)
Primary source:
www.microsoft.com
Author:
by SLMP
File size (.iso image):
3.48Gb
Windows 11 22h2 Professional Gaming Edition Download
---
System requirements:
CPU (x64) – 2 GHz, RAM – 4 GB, free space (HDD/SSD) – 64 GB, DX9-compatible graphics card. Use Rufus to write the .iso image to your USB flash drive and then install Windows 11 Pro without TPM2/UEFI and other additional requirements.
ATTENTION!
Your Internet connection should be off during the whole process of installation (with several additional automatic reboots).
Windows 11 Pro 64bitHow to activate Windows 11 Pro by SLMP on command line
Run command prompt (or PowerShell) as Administrator and enter these 3 commands:
slmgr/ipk "VK7JG-NPHTM-C97JM-9MPGT-3V66T"
slmgr /skms kms.digiboy.ir
slmgr /ato
Another activation key for Professional edition (just in case):
W269N-WFGWX-YVC9B-4J6C9-T83GX
Disabled features in Windows 11 by SLMP:
-Windows Update service is completely disabled!
-Windows Defender and its related services (e.g. SmartScreen and others).
-Edge updates
-Indexing service (Windows Search) and related unwanted services for SSD/HDD.
-Installation and removal of OneDrive.
-Meltdown\Spectre patches – for the best performance.
-Language switch popup.
-40 unwanted system services.
-Compatibility check.
-Input analysis and other tracking functions.
-Some annoying standard notifications
-Event logs.
Removed components:
-All editions except Pro are completely removed from the image.
-Some preinstalled garbage packages (32 Metro applications + 5 components) are removed from the system.
-68 unwanded tasks are removed from Task Sheduler.
Installed components:
-SLMP WinTool (freeware tweaker in Start menu). You can turn it on and off some services with this tool.
-NET Framework 3.5 and Direct Play are installed. They are useful for many old applications and games.
-The Start menu is replaced with StartAllBack, which consumers RAM more economically.
-Classic Windows Photo Viewer, Notepad, Calculator are returned. They are much more convenient than modern applications.
Other settings:
-63 optimal rules of group policy are applied (for the best security and perfomance).
-Hidden files and file extensions are shown by default.
-Redundant context menu items are removed.
-Classic view of the context menu.
-Other useful minor tweaks.
Tips
-Do not use third-party tweakers for further optimization. Just use built-in SLMP WinTool.
-Some system files are patched – so it's not recommended to run sfc /scannow.
-Don't try to turn on Windows Update Service.
Additional information
You can visit author's web-page: github.com/Mitradis/Windows-11-DISM-Scripts and download this script if you're interested in more details about the configuration of Windows 11 by SLMP. This system is gaining popularity in Russia, China, USA and many other countries. SLMP is a competent IT specialist. He invented the most stable and fastest configuration for Windows 10 and Windows 11. He regularly uploads new releases to the torrents and is highly respected among the visitors of our site. His systems are provided completely free of charge. They don't contain donate info and any dangerous or suspicious soft. You can appreciate all the benefits of this open-source project right now! В ISO образах допускается установщик браузера на рабочий стол и некоторые пользовательские изменения по умолчнию для браузера Chrome, каждый может без проблем изменить настройки браузера на свои предпочтительные. Все авторские сборки перед публикацией на сайте, проходят проверку на вирусы. ISO образ открывается через dism, и всё содержимое сканируется антивирусом на вредоносные файлы.

Комментариев: 2
Смотрело: 5 973